A Great Way To Enjoy Reading e-Books
I hate spending my money on books. Imagine I could waste Rp 1 million (roughly USD 100) only for 1 semester. In 8 semesters, I will waste Rp 8 million. And after I graduate, I don't know what to do with that books and those books will just seated nicely in my room. Dusty, and finally are being eaten by termites. Like these mangas: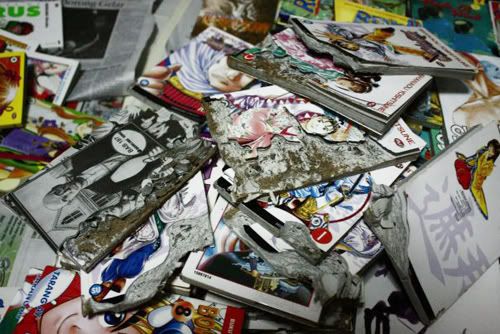 There are some ways to get books for free (or at least cheaper). First, is to buy from seniors. The problem is I do not know a lot of seniors. Most of them won't sell their computer-related books too. They think that they would need them sooner or later, so it's better not to sell them. Second, is to borrow from the library. The problem is each students can only borrow up to 2 books at the same time and the number of books is limited. The last one is, to download the e-book (it's illegal though). My college uses English-language books, so it's relatively easy to get the e-books.
The only problem with e-book is it's not really convenient when being read from laptop, which makes me so lazy to study. My iTouch is too small for an e-book. In result, I have to keep scrolling to read the whole content. An iPad or other e-book readers would probably the best way to read e-books. But hey, I found a great way to enjoy reading e-books on a laptop!
I changed my laptop display into portrait (flipped). Portrait has the same effect, but I find it more convenient to use portrait (flipped) since I was leaning on my right side while using my laptop.
So be it!
I still have one mouse to operate the e-book. An external keyboard would make it more awweee-some
This is how the screen looks like. All the pages are loaded without having to scroll down. That's why it is more convenient. The text can be read easily too without having to zoom in.
It is more convenient to see portrait images as well.
With this kind of settings, my experience of reading e-books would greatly improved. And hopefully it will help me in studying with e-books (though I'm not sure of it)